Ghislaine Maxwell and Jeffrey Epstein
GM + JE = true?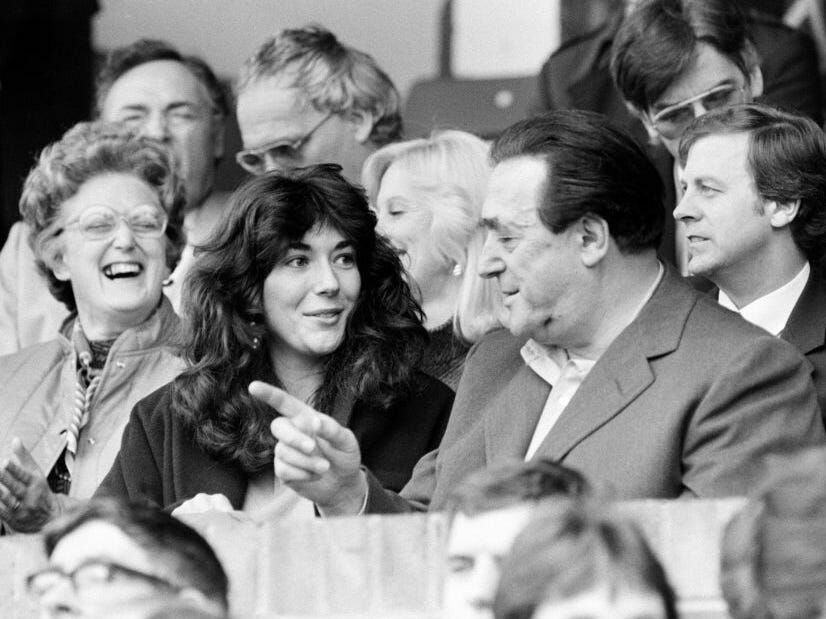 Ghislaine and her father Robert Maxwell

Ghislaine Maxwell is a rich and influential British Woman. She is the favorite daughter of media mogul and international man of mystery Robert Maxwell, after whom he named his luxury yacht. Her father died under suspicious circumstances in 1991 when he drowned while staying on said yacht. After his death, his media empire collapsed, as he and his family had regularly robbed the business employees' pension fund for their personal use. Robert's death must have been a blow to the 9 Maxwell children. But some were ready to carry on his legacy as a heavyweight in global power wielding.

Although the origins of Epstein and Ghislaine's relationship are somewhat murky, they seem to have been acquainted for almost Ms Maxwell's entire adult life.

Ghislaine is currently known for her relationship with Epstein. The two seem to have been in some weird "friends with benefits" relationship through the times. Any exclusivity was not there as both of them frequently abused and had sex with minors.

Ms Maxwell played at least two roles in the duo. She was the recruiter of young girls to their racket. She scouted young and bored and promiscuous-looking girls in middle schools and high schools, and offered them a handsome sum of money for giving massages to older men. After giving massages, the girls would be given more offers and possibly become part of Epstein's jet-setting entourage. Maxwell being a woman probably helped gain trust with vulnerable young girls, as this kind of recruiting would not be easy for Jeffrey Epstein to do on his own.

Maxwell was also an important link for Epstein to access the elites of the world. The Maxwells is a powerful and famous family. Prince Andrew of the UK, former Israeli prime ministers like Ehud Barak, or billionaires like Bill Gates will answer if Ghislaine call them. While Epstein himself was charismatic and probably a fun person to hang around, he was from an unremarkable Staten Island family, and a nobody compared to a semi nobility character as socialite Ghislaine Maxwell. Epstein's rise to power is riddled with mysteries. Having an extremely well-connected person as Ghislaine Maxwell as a partner-in-crime may be how he was able to get such a prestigious and profitable social network.

Although Jeffrey Epstein got most media attention, and was clearly the eccentric one, Ghislaine may have been the brain and bosslady of their operation. It is unknown just who the boss of Epstein's operation was, and whether Ghislaine was higher or lower than him. But for the time being, Epstein is dead and disgraced, while Maxwell is alive, well, and as fearless and shameless as always.